Fête de Fin de Saison
on
May 6, 2012
at
8:12 am
This is a French translation of our Season 1 comic "End of Season Party" and its accompanying commentary, by Samuel. With this strip, Sam has managed the incredible feat of translating every single comic from Season 1! Click on the image for the full-sized version: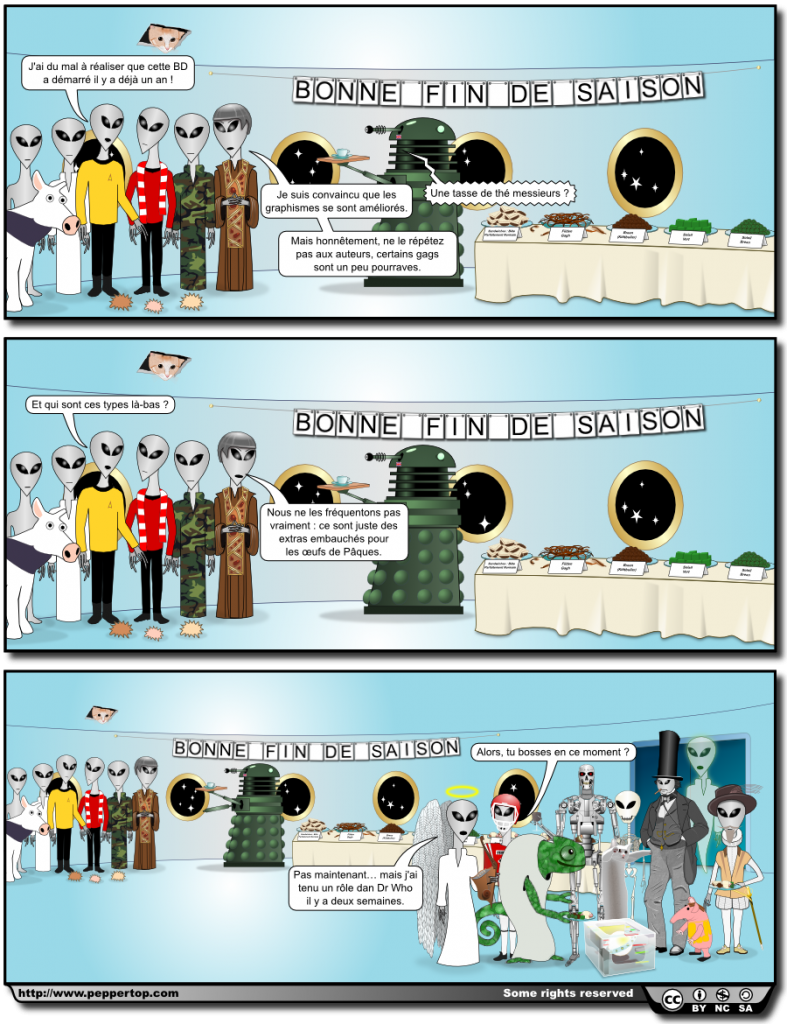 Nous avons décidé de faire preuve d'un peu d'auto-indulgence pour cette planche car les Gris sont maintenant en ligne depuis un an. Oui, douze mois pleins avec une BD tous les quinze jours et deux ou trois bonus entre temps.
Chacune de ces planche contenait un œuf de Pâques, mais nous ne sommes pas naïfs et nous savons que peu de personnes sont suffisamment intéressées pour télécharger le sources en vue de partir à leur chasse. Nous y avons consacré beaucoup de temps et d'efforts, peut-être un peu trop car ils sont parfois plus longs à créer que la planche à laquelle ils sont associés. Ils sont en général choisi pour rehausser l'histoire principale, ajouter un ou deux gag, et parfois pour détourner totalement la chute originale. Si vous aimez les Gris, alors vous perdez la moitié de ce qui fait leur sel en ne recherchant pas les œufs de Pâques.
A titre d'encouragement nous avons pensé à vous donner un aperçu de ce que vous avez manqué. D'où cette planche. Elle n'est pas sensée vous faire rire à gorge déployée, c'est simplement notre manière de vous montrer une partie des personnages qui sont apparus l'an passé parmi nos œufs de Pâques.
C'est donc la fin de la première saison. Nous espérons que vous serez de retour dans quinze jours pour la première BD de la saison , nous avons quelques très bonnes planches programmées pour les semaines à venir. Maintenant que nous avons un an de BD à notre actif nous avons décidé de sauter en marche dans le train des réseaux sociaux avec notre propre page Facebook. Allez donc y faire un tour et cliquez sur « j'aime » si vous nous aimez et nous vous tiendrons au courant de nos nouvelles parution.
Cliquez ici pour télécharger le fichier SVG pour cette bande dessinée