Les Verts
on
April 19, 2012
at
6:41 pm
This is a French translation of our Season 1 comic "The Greens" and its accompanying commentary, by Samuel. Click on the image for the full-sized version: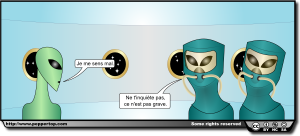 Commençons par crever l'abcès : ceci est un piètre échantillon des Gris. Le gag n'est pas génial et il utilise encore notre vieil arrière-plan que nous n'avons même pas enrichi de quelques accessoires. C'est pour cela que nous avons décidé de l'offrir en bonus, en dehors de notre échéancier habituel. Comme cela, vous n'aurez pas l'impression que nous vous refilons de la marchandise de deuxième choix en la faisant passer pour de la qualité.
Alors, pourquoi prendre la peine de le mettre en ligne si nous n'en sommes pas content ? En premier lieu, c'est notre œuf de Pâques à votre intention. Les fêtes de Pâques ne commencent pas avant demain (un bon vendredi !) alors pourquoi le poster aujourd'hui (un triste jeudi) ? Pour être honnête, notre stock de BD terminées s'est épuisé, mis à part une ou deux autres « qui ne sont pas très bonnes mais pourraient le faire en cas d'urgence ». Nous en avons quelques nouvelles proches de leur achèvement, mais il y a un risque pour que nous n'ayons rien de prêt à temps pour notre créneau habituel jeudi prochain. Alors si nous n'y parvenons pas, celle-ci pourra toujours occuper le terrain pour les deux semaines à venir, nous octroyant ainsi un délai supplémentaire de sept jours. Espérons de ne pas en arriver là, mais pour l'instant les choses ne se présentent pas trop bien1.
Finalement, j'aimerais remettre cette planche dans son contexte. C'est l'une de nos plus anciennes datant d'une quinzaine d'années (d'où le vieil arrière-plan). A cette époque, nous caressions encore l'espoir de voir les Gris imprimés comme une vraie BD dans un magazine (nous sommes allés jusqu'à l'envoyer à SFX magazine, puis avons perdu courage et entièrement abandonné la BD pendant deux ans). Chaque planche avait une bordure proclamant fièrement le titre, les Gris, sur un côté. Notre idée ne résidait pas seulement dans le gag que vous avez sous les yeux, mais consistait aussi à modifier cette bordure pour qu'on y lise « les Verts ».
Bon, je vous l'accorde, ça ne l'aurait pas rendue tellement plus drôle…2
---
NdT:
1) Ironiquement, cette traduction devrait être mise en ligne pour la période de Pâque deux ans après alors que les nouvelles planches arrivent elles aussi à flux tendu
[My apologies to Sam: although he sent us this translation shortly before Easter, I didn't actually post it until afterwards – Mark]
2) « Bunny suit » (costume de lapin) désigne pour les anglophone une tenur NBC (bactérilogique-nucléaire-chimique, rien à voir avec ça). Vous ne voyez pas le rapport avec ce qui précède ? Alors il faudra chercher !
Cliquez ici pour télécharger le fichier SVG pour cette bande dessinée