Dictionnaire Dalek
on
March 26, 2012
at
8:26 am
This is a French translation of our Season 1 comic "Dalek Dictionary" and its accompanying commentary, by Samuel. Click on the image for the full-sized version: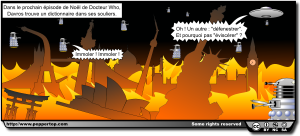 A l'origine, cette planche était la dernière à être publiée en 2009. C'était le moment idéal pour un gag sur l'annuel scénario de bric et de broc : l'épisode de Noël de Docteur Who. Au moment de réaliser la BD, seule la première partie avait été diffusée, le dénouement étant programmé pour le jour de l'an. Avec un peu de chance cela constituera un baisser de rideau à la hauteur de notre dixième docteur, mais au vu du premier épisode, je ne me fait pas trop d'illusions.
Russell T. Davies a fait quelques grandes chose pour Docteur Who, la moindre n'étant pas de l'avoir ramené sur nos écrans. Et globalement j'ai apprécié David Tennant dans ce rôle. Mais je ne peux pas m'empêcher de penser que le feuilleton a perdu de son ancien charme en devenant une série et en nous infligeant TOUTE-CETTE-MUSIQUE-TRÈS-FORTE-ET-PAS-VRAIMENT-D'ARRIÈRE-PLAN ! Oui, le changement est nécessaire et inévitable, mais la série moderne manque du suspens, du mystère et de la subtilité du feuilleton d'autrefois. Ou alors l'impression vient de mes lunettes roses… Je suis sûr que le nouveau tournevis sonique dispose d'une fonction pour les réparer !
Alors merci à R.T.D. Et à David Tennant, mais j'attends impatiemment une nouvelle ère. Steven Moffat a indéniablement écrit certaines des meilleures histoires de l'actuelle incarnation du docteur Who (et a prouvé que l'on peut toujours créer du suspens, du mystère et de la subtilité, même en un seul épisode). Espérons qu'il applique ses talents de scénariste et son sens du drame en exerçant sa nouvelle fonction de producteur.
2010 marquait le début d'une nouvelle ère pour Docteur Who et celui d'une deuxième année pour les Gris. Ce qu'on appelle une bonne année !
Cliquez ici pour télécharger le fichier SVG pour cette bande dessinée