Banane Flambée
on
March 3, 2012
at
7:15 pm
This is a French translation of our Season 1 comic "Hot Dog" and its accompanying commentary, by Samuel. At Samuel's suggestion, the target of the joke has been changed from a hot dog to a banana flambée as it seemed like the best way to keep the spirit of the joke intact in the translation to French. Click on the image for the full-sized version: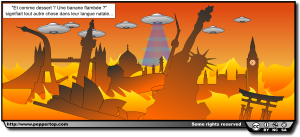 A l'origine cette planche a été postée un 5 novembre qui pour les britanniques est généralement connu comme « bonfire night » (littéralement, la Nuit du feu de joie). C'est une nuit consacrée aux feux d'artifices et à l'incinération d'effigies. Alors quel meilleur tableau pour accompagner l'événement que cette scène de destruction dantesque tirée des profondeurs de nos archives* ?
C'est une de nos plus vieilles planches, réalisée à l'origine sous Corel Draw. La première version utilisait pour les monuments des cliparts de chez Corel, alors plutôt que d'encourir l'ire des avocats de l'éditeur, nous avons préféré redessiner nos propre silhouettes.
L'humour ici est un peu ambigu et différentes personnes y verront différentes choses. Il y a un hommage évident à la Planète des singes, mais à part ça les raisons qui pourraient conduire plusieurs monuments importants à être dévorés par les flammes au même endroit et au même moment (et avec un sens curieux des proportions….) sont laissées à votre imagination.
Accessoirement, au moment où je mettais ce fichier en ligne j'étais assis dans une maison glaciale en attendant l'installation d'une nouvelle chaudière prévue pour le lendemain. Peut-être cela a-t-il également pesé sur notre choix d'une scène chaude, rougeoyante et grésillante. Il faut que je pense à me dénicher un « DVD-cheminée » – un placebo visuel pour les temps de grand froid.
---
*NdT : et quel pire moment pour cette traduction alors que Jeanne d'Arc revient en force à la une des journaux français 😉 ?
Cliquez ici pour télécharger le fichier SVG pour cette bande dessinée