Accueil Glacial
on
March 17, 2012
at
3:53 pm
This is a French translation of our Season 1 comic "Frosty Reception" and its accompanying commentary, by Samuel. Click on the image for the full-sized version: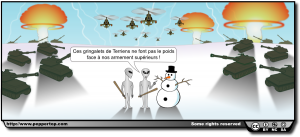 La première fois que cette planche a été mise en ligne, c'était juste avant Noël, nous l'avions donc choisie pour son petit côté festif. « Festif » signifie qu'on y voit un bonhomme de neige. C'est à peu près mon maximum en matière de festivités. Bah ! Foutaises !
Cette publication est une sorte de libération car c'est la BD sur laquelle nous étions en train de travailler lorsque nous avons mis les Gris de côté il y a une quinzaine d'années. Elle avait survécu tout ce temps en état de stase numérique : vieux fichier Corel Draw 4 trimballé de disque dur en disque dur dans un dossier appelé « vieux machins » et survivant à de nombreuses mises à jour qui ont malmené ses petits frères. Mais jamais ouvert et n'évoluant jamais vers son achèvement… jusqu'à maintenant !
Maintenant elle peut arborer ostensiblement ses octets, fière d'être terminée. Non ! pas seulement terminée. Plus que terminée ! Parce-que maintenant elle est ressuscitée dans le Nirvana des vecteurs, réincarnée dans une vie meilleure. Maintenant, elle peut être plus grande qu'elle ne l'aurait pu il y a quinze ans. Maintenant nous ajoutons de œufs de Pâques à nos BD !
Cliquez ici pour télécharger le fichier SVG pour cette bande dessinée