Exterminator (French)
on
February 22, 2012
at
7:24 pm
This is a French translation of our Season 1 comic "Exterminator" and its accompanying commentary, by Samuel. Click on the image for the full-sized version: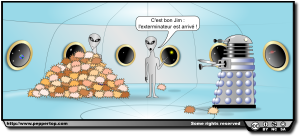 Voici une de nos premières planches, convertie depuis un fichier Corel Draw, nettoyée en utilisant Inkscape et mise en ligne avec nos autres BD.
Il n'y a pas grand' chose de plus à en dire . Si vous êtes familier des tribbles de Star Trek et des daleks de Dr Who* alors le gag est transparent et ne nécessite aucune explication. Si ce n'est pas le cas, alors vous vous êtes probablement trompé d'adresse 😉
Et comme toujours, vous pouvez télécharger le fichier SVG si vous voulez partir à la chasse aux œufs de Pâques.
---
* NdT : cette série pratiquement inconnue en France est une véritable institution au Royaumes Unis où elle est diffusée depuis 30 ans
Cliquez ici pour télécharger le fichier SVG pour cette bande dessinée