Et ta Soeur ?
on
January 3, 2012
at
9:13 am
This is a French translation of our Season 1 strip "Sister" and its accompanying commentary, by Samuel. Click on the image for the full-sized version: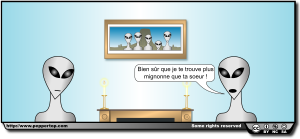 La séduction est un sujet intéressant. Qu'est-ce qui fait qu'une personne est plus séduisante qu'une autre ? Jusqu'à quel point cela dépend-il de la représentation de la perfection donnée par les médias ? Quelle est la part de la nature ? Celle de la culture ? Partageons nous des critères de séduction avec nos pairs ou nos parents ? Comment et pourquoi nos goûts changent-ils avec le temps ?
Oui, c'est un sujet intéressant, mais très compliqué. Parfois je me demande si ce n'est pas plus simple dans le monde animal où, du moins selon les scientifiques dépassionnés, les désirs découlent seulement des contraintes évolutionnaires. En l'absence d'une perfection définie par les médias, c'est l'évolution qui a guidé le développement de la queue flamboyante des faisans et du derrière très coloré des singes. Certes, à mes yeux tous les faisans sont identiques, et si je peux voir des différences entre les singes, je suis incapable de dire lesquels me semblent les plus « séduisants ». De même avec les vaches, les moutons, les chevaux et les chiens : entre deux représentant de la même espèces je serais bien incapable de faire un choix, sans parler d'évaluer un quelconque « sex appeal ».
Tout cela me conduit à me demander si les moutons se regardent entre eux en se disant « La vache ! Ce qu'elle est bien roulée! » , ou si des populations d'animaux sauvages appliquent des critères précis dans le choix de leur partenaire, à l'image des humains. S'ils le font, alors ils peuvent percevoir, parmi leurs congénères, des choses qui m'échappent.
Peut-être cette bande dessinée est-elle une plaisanterie sur le besoin des gens d'être rassurés par leurs compagnons. Mais peut-être, peut-être, les gris sont-ils capables de percevoir parmi eux quelque-chose qui nous échappent ?
NdT : Arte a diffusé il y a longtemps un documentaire intitulé « Biochimie du coup de foudre » qui répond assez bien à toutes ces questions.
Cliquez ici pour télécharger le fichier SVG pour cette bande dessinée