Camouflage (French)
on
January 28, 2012
at
12:17 pm
This is a French translation of our Season 1 comic "Camouflage" and its accompanying commentary, by Samuel. Click on the image for the full-sized version: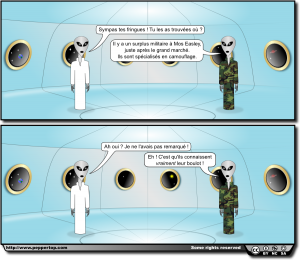 Le camouflage, d'une manière ou d'une autre, a une longue histoire dans le monde de la fiction, depuis les travestis de Shakespeare jusqu'à Tootsie et madame Doubtfire avec leur pratique encore plus perfectionnée… du travestissement. D'une manière générale, la science fiction a une approche bien plus technique, et moins sexuelle, du problème de la dissimulation, allant souvent jusqu'à l'invisibilité complète avec le manteau de Predator, trompeur pour les sens, ou avec les dispositifs romuliens qui abusent les capteurs conçus par les humains.
Le camouflage est très sensible à l'environnement ; demandez donc à la première seiche venue. Ce qui vous cache dans un certain décor ne le fera pas ailleurs. Ce défaut s'avère souvent crucial dans une stratégie de dissimulation dans la mesure où les nébuleuses inter-galactiques semblent, invariablement, soit déconnecter les dispositifs de furtivité, soit infliger des dégâts aux senseurs d'un vaisseau. L'ensemble de la nébuleuse se transforme alors en un immense filet de camouflage. C'est cette sensibilité qui a inspiré cette BD…
Il y a bien des années, il y avait un surplus militaire dans la rue principale de la ville où j'habite. Sa devanture était peinte en vert olive et ses fenêtres étaient festonnées de filets de camouflage auxquels étaient suspendus divers accessoires et vêtements de couleurs variables : vert, brun, kaki et bleu marine. Comme dans beaucoup de rues Anglaises, les reste des magasins était gris terne avec quelques enseignes de couleurs vives et beaucoup d'apostrophes mal placées. Ironiquement, sur ce médiocre arrière plan les objets camouflés du surplus militaire se voyaient comme le nez au milieu de la figure.
Etre aussi voyant était peut-être bon pour le commerce, mais je pense que ça ne l'était pas suffisamment puisque le magasin n'est plus là. Du moins, il y a des années que je ne l'ai pas vu. Ce qui me rend songeur… et s'il était encore là et qu'ils étaient simplement devenu très habiles dans l'art du camouflage ? D'où cette BD.
(Et puis Inkscape dispose d'une texture de camouflage qui ne demandait qu'à servir à quelque-chose !)
Cliquez ici pour télécharger le fichier SVG pour cette bande dessinée