Scrivere per Dottor House
on
April 3, 2011
at
3:41 pm
This is an Italian translation of our Season 2 comic, "Writing for House M.D.", and the commentary that accompanies it, courtesy of OpenCode from inkscapeforum.it. Click on the image for the full-sized version: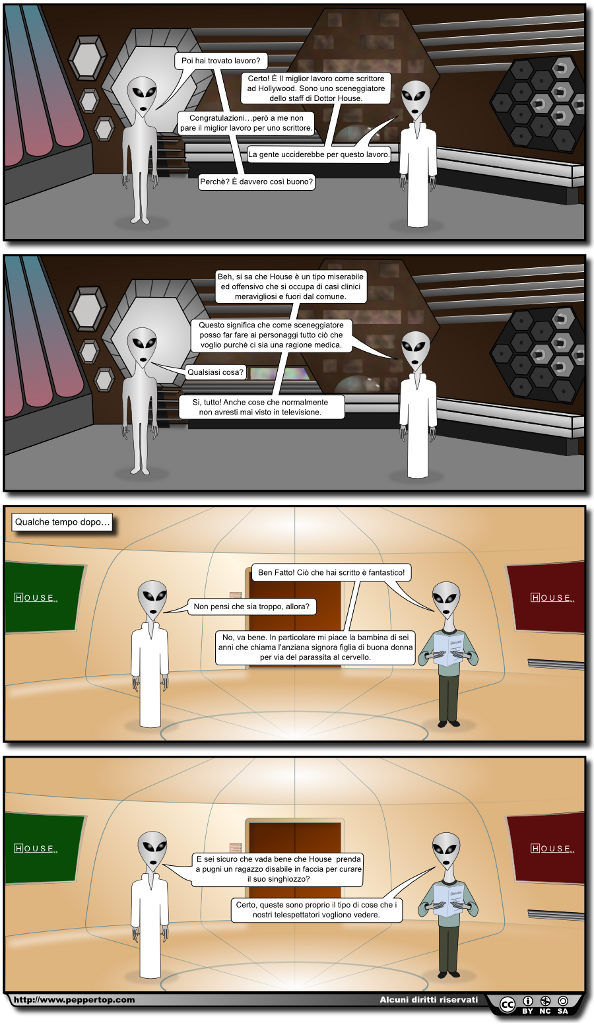 Hugh Laurie è un attore incredibilmente versatile. È difficile da immaginare come la stessa persona può rappresentare in modo cosi convincente sia Gregory House chee il principe reggente in Blackadder.
Per quelli come noi che vivono nel Regno Unito, è diventato noto per il suo ritratto umoristico degli gentiluomini inglesi – che si tratti di Prince George, o di Bertie Wooster. Il tono della sua voce sale, una grossa prugna cresce nella sua bocca e di colpo diventa un artistocratico ingenuo, perso senza il suo fedele maggiordomo. Fece cosi successo in quelle parti tanto da diventare voce fissa nelle pubblicita' usando la stessa intonazione.
­Paragoniamolo a Dottor House.La stupidità degli occhi luminosi è stata sostituita da uno sguardo scuro, meditabondo ed intelligente. La voce è più profonda – e americana – e il giovane dal viso fresco del passato ha lasciato il posto ad un nuovo volto caratteristico. È un ritratto COSÌ convincente che a volte è difficile ricordare che lui sia lo stesso attore che ha esortato Stephen Fry a "passare la marmellata" in pieno Pythonesco modalità trascina-e-falsetto.
Quando House fu trasmesso la prima volta su Channel5 nel Regno Unito, tuttavia, vi è stato un indizio sottile che ci ha ricordato il passato di Hugh Laurie su questo lato dell'Atlantico. Quasi ad ogni break era presente un annuncio per Tiscali (un fornitore di banda larga) con una voce fuori campo effettuata da Hugh nella sua vecchia cadenza inglese. Che bel modo per distruggere la sospensione di incredulità!
Cliccate qui per scaricare il sorgente SVG per questo fumetto