This is post #101. Yes, I really managed to waffle on for a hundred posts before this one. And as anyone who's read more than a couple of posts here will attest, I really can waffle when I want to. So I figured I'd have a quick look at how those 100 posts break down, and see what the server stats look like now.
The most obvious thing I see is that the Games category is woefully underused. Given that I spend a lot of my spare time playing games – I even own my own MAME cab and a couple of pinball tables – this seems like a huge omission. I'll try to post more games-related stuff in future.
On the subject of categories, a lot of my posts are assigned to the "My Green Life" section, which in turn is split into "Things I Love", "Things I hate" and "Things I Just Don't Understand". I'm pleased to report that on the whole life seems to be good – if a little perplexing – as this pie chart shows:
The actual figures are: Love (22), Hate (12), Don't Understand (19).
Although there are a few really techie posts on this blog, on the whole even the entries in the "Tech" category tend to be discussive pieces. That said, by far the most popular pages are all techie pieces which people have stumbled across through Google searches and the occasional link on another blog or forum.
Which I suppose brings me round to the Google Analytics stats for the site. I only got round to adding GA to the site back in May, so can't really do any in-depth comparative analysis of how the demographics have changed over time. But I can highlight the situation as it stands right now: 1,305 page views over 945 visits from 810 unique visitors during the past month. Not the most popular blog on the planet, but high enough to make me think I must be doing something right. The most popular few pages, by title, are:
Looking at the search terms that people have used to find this site, it's not surprising that the top posts look like that: although there are lots of different phrases used, a high proportion of them contain one or more of the following words: Ubuntu, 9.04, Jaunty and xdmcp. "A7V600" turns up frequently in various guises, which I hope means that I've managed to help a lot of people with that particular post. There also appear to be a lot of people searching for information about psbook and psnup, so I hope that article was useful to a few of you.
Visitors to this site come from all over the world, with the highest contingent coming from the US. The UK comes in second, which doesn't surprise me as I'm English myself, so my posts inevitably have a UK bias. Brazil comes in third, due to a link on a Brazillian blog, with Canada, Germany, The Netherlands and various other countries all generating a similar number of visits: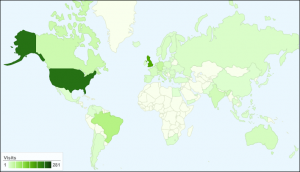 Let's finish off with a few technical statistics. It's no secret that I prefer Linux as my operating system (though I also work with Windows and OSX on a daily basis), so my really technical articles tend to be Linux based. With all those "Ubuntu", "Jaunty" and "9.04" searches, it comes as no surprise to see Linux making it high in the list of my visitors' operating systems: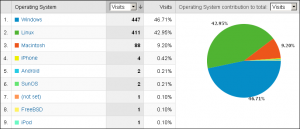 A lot of Linux users – and especially Ubuntu users – use Firefox as their main web browser. Mind you, so do a lot of Windows users. Couple that with a few XUL articles, which by definition target Firefox/Gecko developers, and it's hardly surprising that Firefox is the browser most often used to access this site. In fact I'm surprised (but pleased) to see just how far ahead of Internet Explorer it is in this undeniably biased survey:
And that brings us towards the end of the arguably interesting stats about this site, apart from one more thing…
A few weeks ago I switched to a new theme, hoping to increase the number of pages-per-visit that each visitor reads, and hoping to drive a bit more traffic towards my webcomic, The Greys. So far the pages-per-visit figure has creeped up very slightly, but I haven't seen the huge influx of visitors to the comics that I hade hoped for ;). As it would be foolish of me to ignore any opportunity for a little self-promotion, if you like sci-fi, humour or comics, then why not click on the banner below: