Last night I went to the free Add-ons workshop that Mozilla hosted in London. It was an informative and interesting evening – well worth the trek down to London, even if it did then lead to a late-night trek back again.
Particular highlights of the evening were:
Myk Melez demonstrating that he's a braver man that I am as he coded a small Jetpack extension as we watched – and it worked first time!
Tobias Leingruber's wonderful presentation about his artzilla.org website and the creation of Firefox extensions as artistic works. Easily the funniest presentation of the evening.
Paul Rouget's amazing demos. His French accent was a little thick at times – especially when he got excited. But the fact that he did get excited is telling in itself. Keep an eye on hacks.mozilla.org, especially as we get closer to the release of Firefox 4, as I'm sure most of his demos will appear there at some point.
There was also a stand with some free Firefox merchandise – mostly badges, pens and lanyards – but I did pick up a sheet of Foxkeh stickers for my girlfriend who is a big fan of the cute character, and uses the Foxkeh monthly desktop backgrounds on her computer (you might want to read this if you're an English rather than Japanese speaker):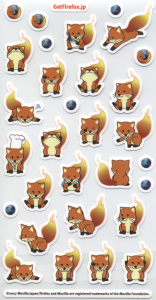 I've often wondered why the EU and US arms of Mozilla don't make more use of Foxkeh in their marketing. He gets commented on by a lot of people that see my girlfriend's desktop, which inevitably leads to conversations about what Firefox is, and how it differs from Internet Explorer. A mascot that leads to spontaneous discussions like this is surely something that should be used more widely.
Update:
Chris Heilmann's blog
covers this event in more detail, and includes some videos of Paul Rouget's demos.
Although many aspects of these demos will only become available in Firefox 4 (or nighties and pre-release versions thereof), it's worth noting that SVG clipping, masking and filtering of HTML (including Ogg Theora video) works right now in Firefox 3.5, as demonstrated by my own post on using Inkscape filters in Firefox.