Having upgraded a few machines to Ubuntu 9.04 a few days ago, here are my thoughts on this latest version:
Things I Love
The speed of the system – both in booting and in general use – seems to be faster. There's more of a delay after logging in before it draws my desktop, but when it does the system is immediately usable. Previously the desktop appeared quickly, but it would take a few seconds longer before the panel applets were drawn and the system could actually be used.
Things I Hate
The artistic direction of 9.04 leaves something to be desired. The primarily dark login screen is intimidating, rather than friendly and welcoming. Yes it can be changed easily, but it's not the sort of thing that will encourage a novice user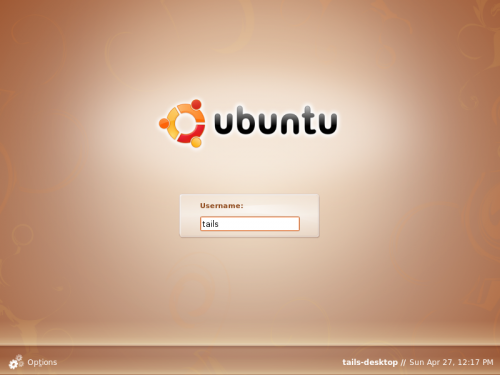 Similarly the default desktop image is dull. It looks like someone took a blue wavy-line desktop image off an Apple machine, and converted it to brown. The best thing that can be said for it is that it's inoffensive. The Hardy Heron desktop image was daring and imaginative – and beautiful enough as a work of art that I bought the T-shirt. The Intrepid Ibex image was a bit too abstract – with many comments that it looked like a coffee stain (rather than the Ibex it was supposed to be). But even that was more interesting and inspirational than a few wavy lines.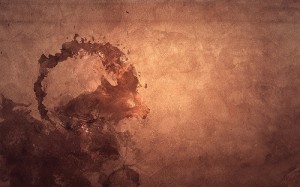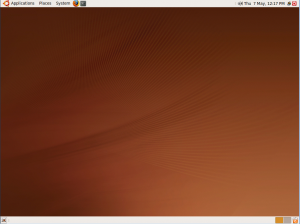 While I'm on the subject of desktop images, why does Jaunty have packages for "edgy-wallpapers", "feisty-wallpapers" and "gutsy-wallpapers" but no sign of "hardy-wallpapers" or "intrepid-wallpapers"?
Things I Just Don't Understand
Since the first version of Ubuntu, five years ago, the "Log Out" and "Shut Down" options have been available from the System menu. Now they're gone. Sort of. Depending on whether or not you're using the "User Switcher" applet.
That's right – the presence, or absence of some key menu items, which muscle memory has trained me to look for in the same place over the past five years – is determined by whether or not you want to switch users from within a running session. In what universe does that make sense?
The logic seems to be this: the User Switcher applet offers Log Out and Shut Down options on its menu; therefore to avoid duplication/confusion, when the User Switcher applet is present those options should be removed from other parts of the user interface.
What I don't understand is why I can't have both. Why can't I shut down from the System menu most of the time, as I'm used to doing, but still have the ability to switch to a different user from time to time? Why can't I log out from the System menu if my mouse is close to it, or log out from the user switcher if my mouse is closer to that?
To make matters worse, the icon on the User Switcher applet tends to change. This is what it looks like with my normal settings (there's also an option to show your name instead of the little person icon, but as I already know my name, I prefer it to take up less screen space instead):
See, a little red icon that contains a well known symbol denoting power controls. A new user might not spot it as a means to log out quite as quickly as a sweep through the menus, but at least when they do spot it they're likely to remember that they need to click on the red power button to log out.
Now look what happens when I do something that's largely unrelated to logging out or shutting down: I'll launch Pidgin, the instant messaging (IM) client shipped with Ubuntu:
The "power" icon has now been replaced with a green circle, indicating my IM status. If my IM status changes, so does the icon. So for any user who wants to have the User Switcher applet, and who also runs Pidgin, the options to Log Out or Shut Down are hidden behind an icon whose colour and shape changes based on instant messaging settings. That's nice and user friendly, isn't it. Whatever happened to the principle of least surprise?
If the Log Out and Shut Down options were also still present on the System menu, this wouldn't be so much of an issue. Users who are thrown by the changing state of the User Switcher icon would soon learn to use these functions from the System menu instead. Those old Ubuntu hands whose muscle memory still sends them to the System menu wouldn't be surprised by the absence of the Log Out and Shut Down options.
By all means expose common functionality like this in more than one place, but please don't expose it in one place if you've got an applet installed, and another if you haven't. And please don't make the one place that it's exposed also be an icon whose shape and colour can change frequently, depending on the state of yet another application. If you want to confuse new users that's a good way to go about it.