Filmnesia, Part V (French)
on
February 27, 2013
at
8:53 am
This is a French translation of our Season 4 comic "Filmnesia, Part V" and its accompanying commentary, by Samuel. Click on the image for the full-sized version: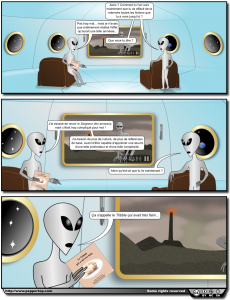 Avec cette planche, nous atteignons la fin de notre série Filmnesia. Nous avons vu notre personnage principal subir un effacement provisoire de sa mémoire afin de pouvoir redécouvrir un film comme pour la première fois ; puis expérimenter une amnésie de plus longue durée afin d'éliminer ses souvenir d'un mauvais film ; et nous sommes enfin arrivés à la conclusion logique : tout effacer et tout reprendre à zéro… pour s'apercevoir que ce nouveau départ n'était finalement pas si drôle que cela !
C'était notre plus longue série des Gris jusqu'ici. Nous en ferons peut-être d'autres à l'avenir (nous avons quelques bonnes idées, il ne nous manque plus que le temps de les dessiner) mais pour le moment nous allons revenir à notre format standard en une planche. Ceci étant dit, nous retrouverons une sorte de fil rouge tout au long de nos BD de cette année : en tant qu'anglais et fans de science-fiction, nous essaierons bien sûr de caser quelques références et quelques personnages tirés de Doctor Who à l'occasion du 50e anniversaire de la série. Assurez-vous de ne pas manquer notre prochaine BD pour découvrir le premier de ces clins d'œil*.
---
* Assurez-vous aussi de télécharger le fichier SVG de la présente planche : son œuf de Pâque en fait l'une des plus belles parues jusqu'à présent (NdT)
Cliquez ici pour télécharger le fichier SVG pour cette bande dessinée