Le Test de Turion
on
July 16, 2012
at
8:02 am
This is a French translation of our Season 4 comic "The Turion Test" and its accompanying commentary, by Samuel. Click on the image for the full-sized version: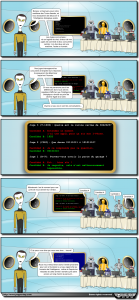 Le 23 juin 2012 marquait le centenaire de la naissance d'Alan Turing dont le génie a joué un rôle vital durant la deuxième guerre mondiale dans les efforts efforts menés à Bletchley Park pour briser les codes ennemis. Les travaux de ce pionnier de l'informatique ont également permis de poser les bases de cette technologie qui aujourd'hui mène le monde.
Il a imaginé une manière de tester une intelligence artificielle connue sous le nom de test de Turing permettant de déterminer si une I.A. peut-être réellement considérée comme intelligente. Fondamentalement le principe est que si un testeur humain est incapable de faire une différence entre un autre humain et l'I.A. concernée, alors l'I.A. peut-être considérée comme aussi intelligente que l'être humain.
En tant que test il a été largement discrédité (même si cela n'empêche pas de nombreuses personnes de mettre au point des logiciels de chat automatique dans le but d'y satisfaire) ; mais les efforts fourni pour passer ce test ont eu pour résultat un large développement de la recherche au sujet de ce qui constitue notre « intelligence ».
Une des raisons pour lesquelles le test de Turing n'est pas très utile sur le plan pratique est qu'il s'appuie sur le postulat selon lequel l'intelligence humaine est un étalon fiable à l'aune duquel on pourrait mesurer tout autre type d'intelligence. Comme le démontre cette BD, si les rôles étaient inversés, il est douteux que nous serions considérés comme intelligent par une I.A. car nous mettons bien trop de temps à répondre ne serait-ce qu'aux plus simples des questions mathématiques.
(Accessoirement, si vous passez près de Milton Keynes en Grande-Bretagne, allez visiter Bletchley Park : on y apprend des histoires fascinantes, on peut y voir fonctionner une reconstruction du premier ordinateur électronique au monde, et c'est un lieu chargé d'Histoire qui mérite réellement d'avantage de soutien.)
Cliquez ici pour télécharger le fichier SVG pour cette bande dessinée